Facilities:
Shower
Hair dryer
Transfer
Restaurant/ cafe
Room cleaning
Playground
SPA
Breakfast is included
Bathhouse
Free Wi-Fi
About hotel
"Helios" is a premium class hotel located in a picturesque place in the Carpathians - in Bukovel. There is everything here to completely immerse yourself in real relaxation, fill with energy and take with you a sea of impressions.

The cost of living includes:
Breakfast
SPA - zone (hamam, Finnish sauna, pools with cold water, jacuzzi and mineral water)
Children's room
Ski room
Parking
Transfer to the ski lift
Booking rules
Helios by Ribas accepts special requests.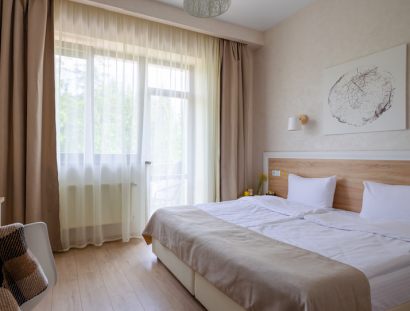 Standard
Double bed
Free Wi-Fi
LCD-TV
Mini bar
Phone
Bathroom
Hypo-allergenic bedding and pillows
Climate control system
Electronic door locking system
2 single beds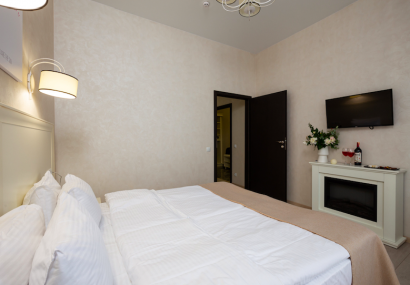 Comfort
Double bed
Free Wi-Fi
LCD-TV
Mini bar
Bathroom
Soundproof windows
Hypo-allergenic bedding and pillows
Climate control system
Electronic door locking system
Balcony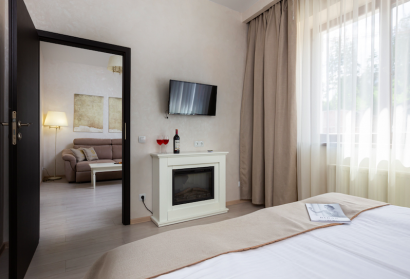 Premium
Free Wi-Fi
LCD-TV
Mini bar
Phone
Bathroom
Safe
King-size bed
Soundproof windows
Hypo-allergenic bedding and pillows
Electronic door locking system
Sofa
Fireplace
Cupboard
Balcony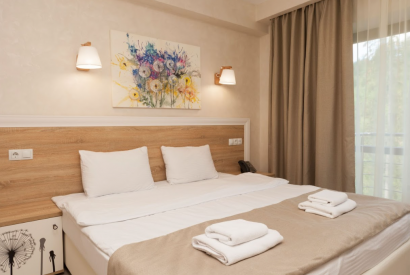 Standart
Double bed
LCD-TV
Mini bar
Phone
Safe
Electronic door locking system
Breakfast included in room price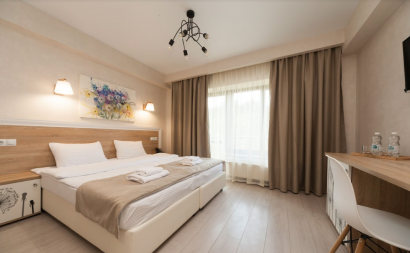 Standart with mountains view
Double bed
LCD-TV
Mini bar
Phone
Safe
Electronic door locking system
Breakfast included in room price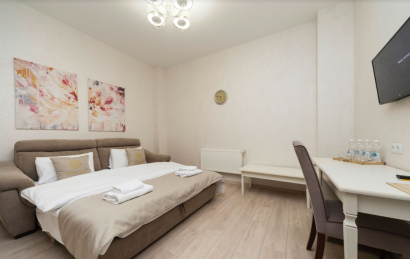 Сomfort without a balcony
Double bed
LCD-TV
Mini bar
Phone
Safe
Electronic door locking system
Sofa
Breakfast included in room price
2 rooms
Similar accommodation options

Standard
Facilities
Double bed
Free Wi-Fi
LCD-TV
Mini bar
Phone
Bathroom
Hypo-allergenic bedding and pillows
Climate control system
Electronic door locking system
2 single beds
19 м²
Toiletries
Mini perfumes
Bathrobes
A set of towels and slippers

Comfort
Facilities
Double bed
Free Wi-Fi
LCD-TV
Mini bar
Bathroom
Soundproof windows
Hypo-allergenic bedding and pillows
Climate control system
Electronic door locking system
Balcony
41 м²
Toiletries
Mini perfumes
Bathrobes
A set of towels and slippers

Premium
Facilities
Free Wi-Fi
LCD-TV
Mini bar
Phone
Bathroom
Safe
King-size bed
Soundproof windows
Hypo-allergenic bedding and pillows
Electronic door locking system
Sofa
Fireplace
Cupboard
Balcony
41 м²
Toiletries
Mini perfumes
Bathrobes
A set of towels and slippers

Standart
Facilities
Double bed
LCD-TV
Mini bar
Phone
Safe
Electronic door locking system
Breakfast included in room price
20 м²
Toiletries
Hair dryer
Mini perfumes
Bathrobes
A set of towels and slippers

Standart with mountains view
Facilities
Double bed
LCD-TV
Mini bar
Phone
Safe
Electronic door locking system
Breakfast included in room price
20 м²
Toiletries
Hair dryer
Mini perfumes
Bathrobes
A set of towels and slippers

Сomfort without a balcony
Facilities
Double bed
LCD-TV
Mini bar
Phone
Safe
Electronic door locking system
Sofa
Breakfast included in room price
2 rooms
40 м²
Toiletries
Hair dryer
Mini perfumes
Bathrobes
A set of towels and slippers
✖


---
✖


---
or sign in with social networks