Facilities:
Transfer
Leisure / tour organization
Restaurant/ cafe
Conference hall
Delivery of food and drinks in the room
Washing/ironing
SPA
Breakfast is included
Bathhouse
Free Wi-Fi
About hotel
The Ribas Duke Boutique Hotel, a 5-star luxurious hotel, is situated in the legendary Odesian lane named after P. Chaykovskiy, right opposite the Opera and Ballet Theatre and within a walking distance from Primorskiy Boulevard. Such famous landmarks as Deribasovskaya Street, the Duke Memorial, the Potemkin staircase, the Vorontsov Palace with the colonnade and a picturesque view of the Odesa port are located in different directions, but within equal proximity.
The Hotel offers 41 comfortable rooms of various categories, from Standard to Presidential. Each guest can relax and recharge energies in the spa zone of the Hotel.
The hotel also has specially equipped accessible rooms.
Booking rules
Ribas Duke Boutique Hotel accepts special requests.
Room categories
Mansard
Room square 22 m2
Standard
Room square 22 m2
Superior
Room square 30 m2
Junior Suite
Room square 35 m2
Deluxe suite
Room square 50 m2
Deluxe with balcony
Room square 50 m2
Presidential suite
Room square 62 m2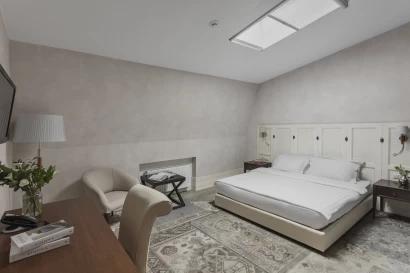 Mansard
Double bed
Work zone
Free Wi-Fi
LCD-TV
Mini bar
Phone
Safe
King-size bed
Climate control system
Electronic door locking system
2 single beds
Cupboard
Breakfast included in room price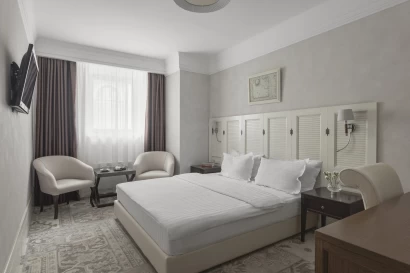 Standard
Double bed
Work zone
Free Wi-Fi
LCD-TV
Mini bar
Phone
King-size bed
Climate control system
Electronic door locking system
Cupboard
Breakfast included in room price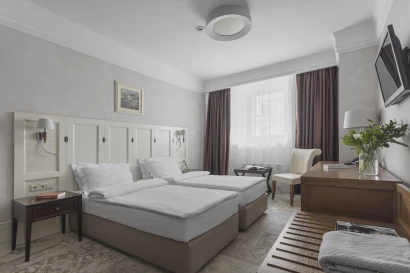 Superior
Work zone
Free Wi-Fi
LCD-TV
Mini bar
Phone
Safe
King-size bed
Climate control system
Electronic door locking system
2 single beds
Cupboard
Breakfast included in room price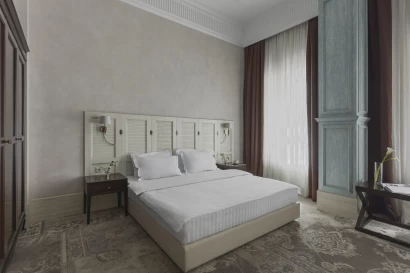 Junior Suite
Work zone
Free Wi-Fi
LCD-TV
Mini bar
Phone
Safe
King-size bed
Climate control system
Electronic door locking system
Cupboard
Breakfast included in room price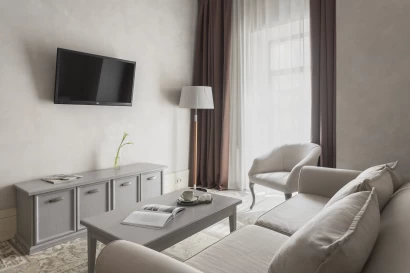 Deluxe suite
Work zone
Free Wi-Fi
LCD-TV
Mini bar
Phone
Bathroom
Safe
King-size bed
Coffee table
Climate control system
Electronic door locking system
Two soft chairs
Sofa
Cupboard
Breakfast included in room price
2 rooms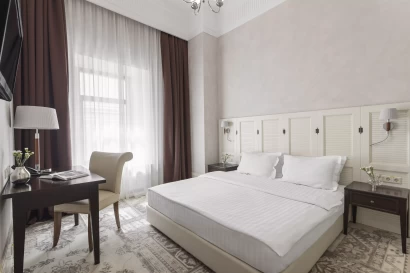 Deluxe with balcony
Work zone
Free Wi-Fi
LCD-TV
Mini bar
Phone
Bathroom
Safe
King-size bed
Coffee table
Climate control system
Electronic door locking system
Two soft chairs
Sofa
Cupboard
Balcony
Breakfast included in room price
2 rooms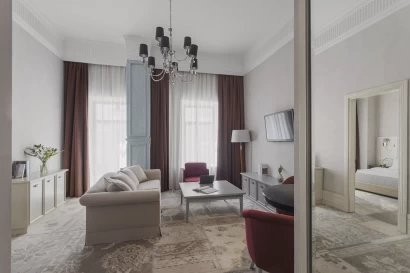 Presidential suite
Work zone
LCD-TV
Mini bar
Phone
Bathroom
Safe
King-size bed
Coffee table
Climate control system
Electronic door locking system
Two soft chairs
Sofa
Cupboard
Balcony
Breakfast included in room price
2 rooms

Mansard
Facilities
Double bed
Work zone
Free Wi-Fi
LCD-TV
Mini bar
Phone
Safe
King-size bed
Climate control system
Electronic door locking system
2 single beds
Cupboard
Breakfast included in room price
22 м²
Toiletries
Hair dryer
Mini perfumes
Bathrobes
A set of towels and slippers

Standard
Facilities
Double bed
Work zone
Free Wi-Fi
LCD-TV
Mini bar
Phone
King-size bed
Climate control system
Electronic door locking system
Cupboard
Breakfast included in room price
22 м²
Toiletries
Hair dryer
Mini perfumes
Bathrobes
A set of towels and slippers

Superior
Facilities
Work zone
Free Wi-Fi
LCD-TV
Mini bar
Phone
Safe
King-size bed
Climate control system
Electronic door locking system
2 single beds
Cupboard
Breakfast included in room price
30 м²
Toiletries
Hair dryer
Mini perfumes
Bathrobes
A set of towels and slippers

Junior Suite
Facilities
Work zone
Free Wi-Fi
LCD-TV
Mini bar
Phone
Safe
King-size bed
Climate control system
Electronic door locking system
Cupboard
Breakfast included in room price
35 м²
Toiletries

Deluxe suite
Facilities
Work zone
Free Wi-Fi
LCD-TV
Mini bar
Phone
Bathroom
Safe
King-size bed
Coffee table
Climate control system
Electronic door locking system
Two soft chairs
Sofa
Cupboard
Breakfast included in room price
2 rooms
50 м²
Toiletries
Hair dryer
Mini perfumes
Bathrobes
A set of towels and slippers

Deluxe with balcony
Facilities
Work zone
Free Wi-Fi
LCD-TV
Mini bar
Phone
Bathroom
Safe
King-size bed
Coffee table
Climate control system
Electronic door locking system
Two soft chairs
Sofa
Cupboard
Balcony
Breakfast included in room price
2 rooms
50 м²
Toiletries
Hair dryer
Mini perfumes
Bathrobes
A set of towels and slippers

Presidential suite
Facilities
Work zone
LCD-TV
Mini bar
Phone
Bathroom
Safe
King-size bed
Coffee table
Climate control system
Electronic door locking system
Two soft chairs
Sofa
Cupboard
Balcony
Breakfast included in room price
2 rooms
62 м²
Toiletries
Hair dryer
Mini perfumes
Bathrobes
A set of towels and slippers
✖


---
✖


---
or sign in with social networks