Facilities:
Transfer
Leisure / tour organization
Restaurant/ cafe
Conference hall
Delivery of food and drinks in the room
Washing/ironing
SPA
Breakfast is included
Bathhouse
Free Wi-Fi
About hotel
Radisson Hotel City Center Odesa – cozy hotel in the vey center of Odesa. It's overlooking Greek square and main street – Derybasivska.
All 90 rooms at The Radisson Hotel Odesa City Centre are equipped with all the essentials to make your stay as comfortable as possible. With free Wi-Fi, air conditioning, as well as tea and coffee facilities, guests can relax and unwind after a full day of sightseeing.
Visit our Restaurant and enjoy an authentic dining experience in the heart of Odesa. In Odesan Culture, the courtyard conveys the spirit of the city and is known for being the inspiration for music and poetry. So, the restaurant's cozy interior courtyard is the perfect place to be inspired. The restaurant offers a perfect respite from a day wandering the city streets. With a modern, stylish layout, the restaurant serves an à la carte menu in a relaxed, casual ambiance.
The Radisson Hotel City Centre Odesa is a business hotel that also offers a range of inviting nearby attractions, due to its position in the historical center of the city. In just a few minutes' walk, visitors can visit The Theatre of Opera and Ballet, City Gardens, Cathedral Square. For cafe culture and nightlife, there are plenty of bars, cafes, and recommended restaurants near to the hotel.
Booking rules
Ribas Duke Boutique Hotel accepts special requests.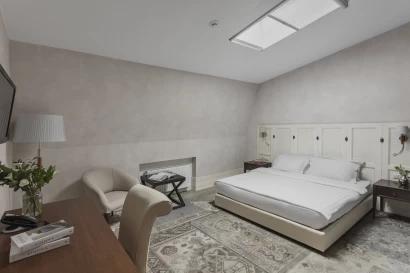 Mansard
Double bed
Work zone
Free Wi-Fi
LCD-TV
Mini bar
Phone
Safe
King-size bed
Climate control system
Electronic door locking system
2 single beds
Cupboard
Breakfast included in room price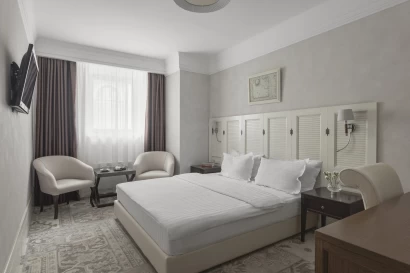 Standard
Double bed
Work zone
Free Wi-Fi
LCD-TV
Mini bar
Phone
King-size bed
Climate control system
Electronic door locking system
Cupboard
Breakfast included in room price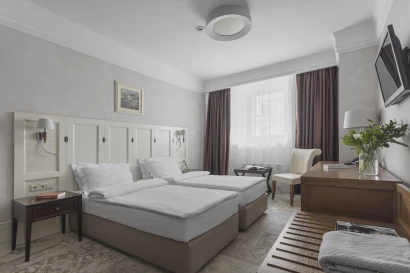 Superior
Work zone
Free Wi-Fi
LCD-TV
Mini bar
Phone
Safe
King-size bed
Climate control system
Electronic door locking system
2 single beds
Cupboard
Breakfast included in room price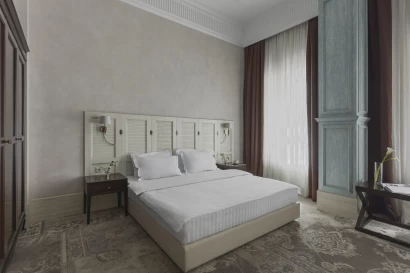 Junior Suite
Work zone
Free Wi-Fi
LCD-TV
Mini bar
Phone
Safe
King-size bed
Climate control system
Electronic door locking system
Cupboard
Breakfast included in room price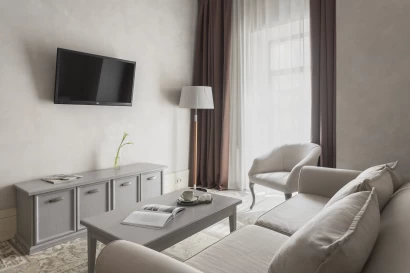 Deluxe suite
Work zone
Free Wi-Fi
LCD-TV
Mini bar
Phone
Bathroom
Safe
King-size bed
Coffee table
Climate control system
Electronic door locking system
Two soft chairs
Sofa
Cupboard
Breakfast included in room price
2 rooms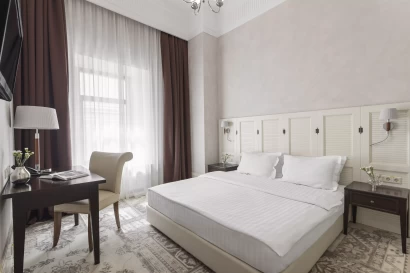 Deluxe with balcony
Work zone
Free Wi-Fi
LCD-TV
Mini bar
Phone
Bathroom
Safe
King-size bed
Coffee table
Climate control system
Electronic door locking system
Two soft chairs
Sofa
Cupboard
Balcony
Breakfast included in room price
2 rooms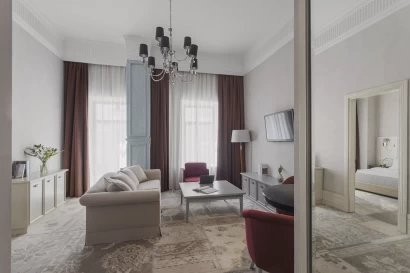 Presidential suite
Work zone
LCD-TV
Mini bar
Phone
Bathroom
Safe
King-size bed
Coffee table
Climate control system
Electronic door locking system
Two soft chairs
Sofa
Cupboard
Balcony
Breakfast included in room price
2 rooms
Similar accommodation options

Mansard
Facilities
Double bed
Work zone
Free Wi-Fi
LCD-TV
Mini bar
Phone
Safe
King-size bed
Climate control system
Electronic door locking system
2 single beds
Cupboard
Breakfast included in room price
22 м²
Toiletries
Hair dryer
Mini perfumes
Bathrobes
A set of towels and slippers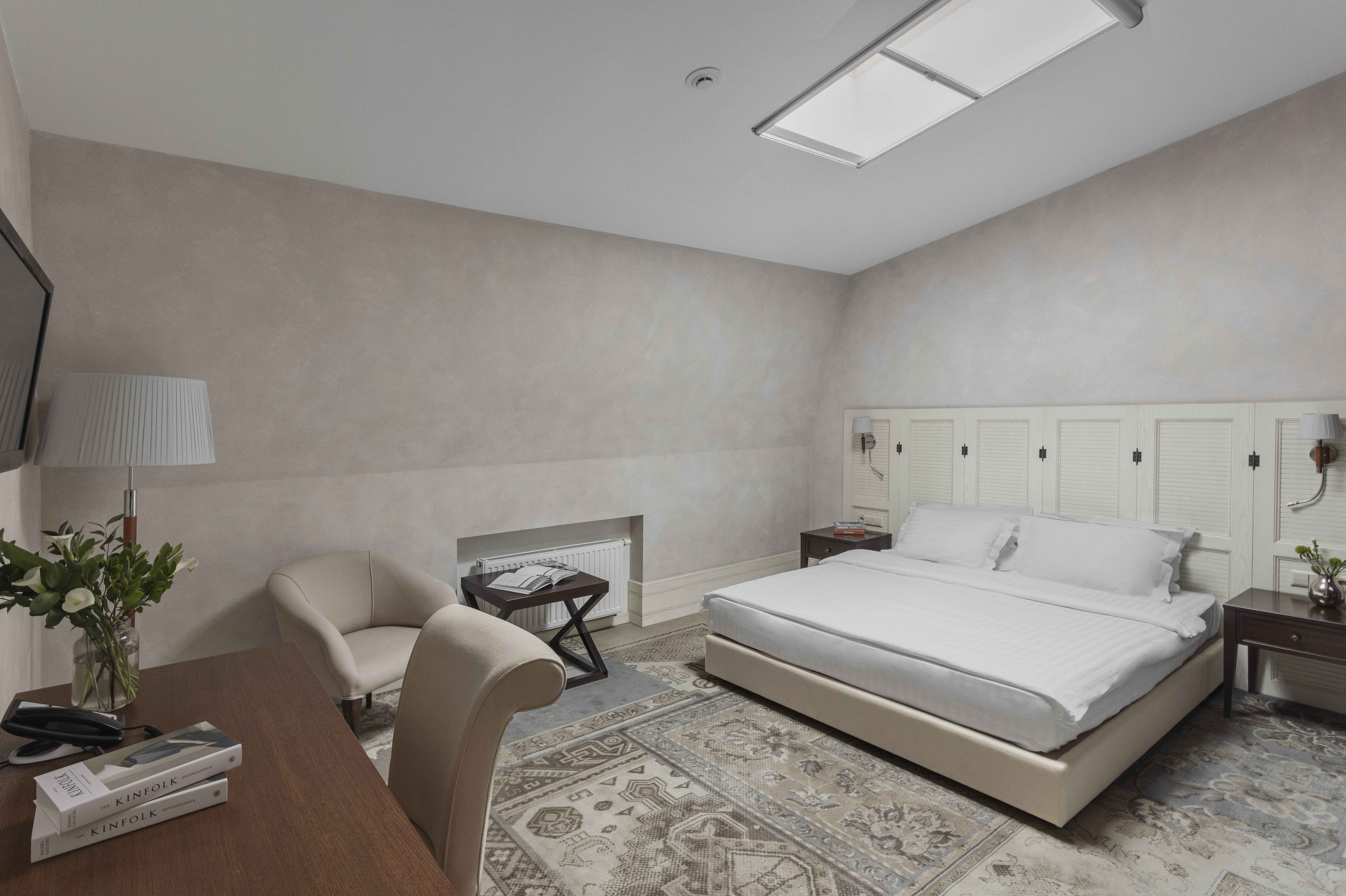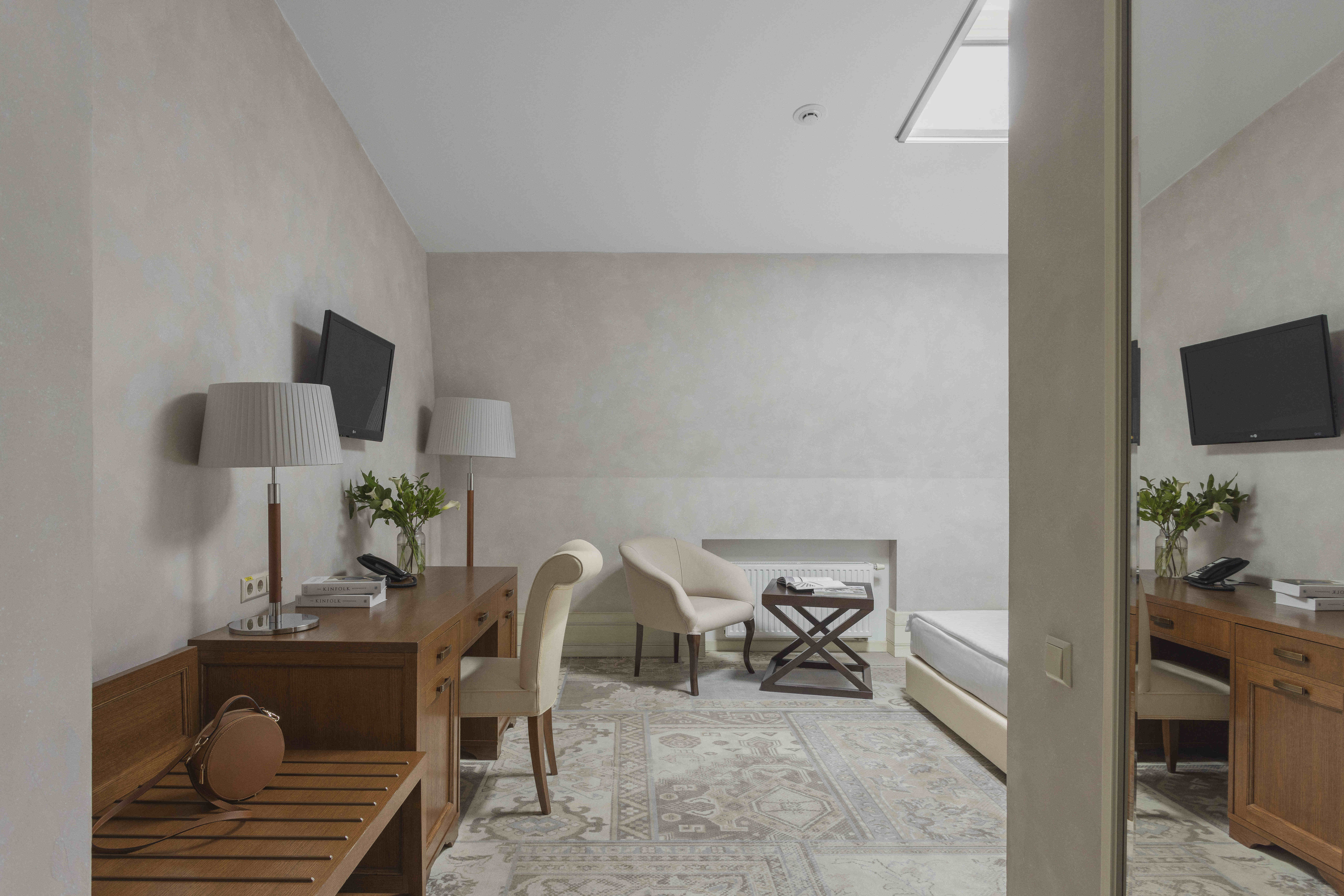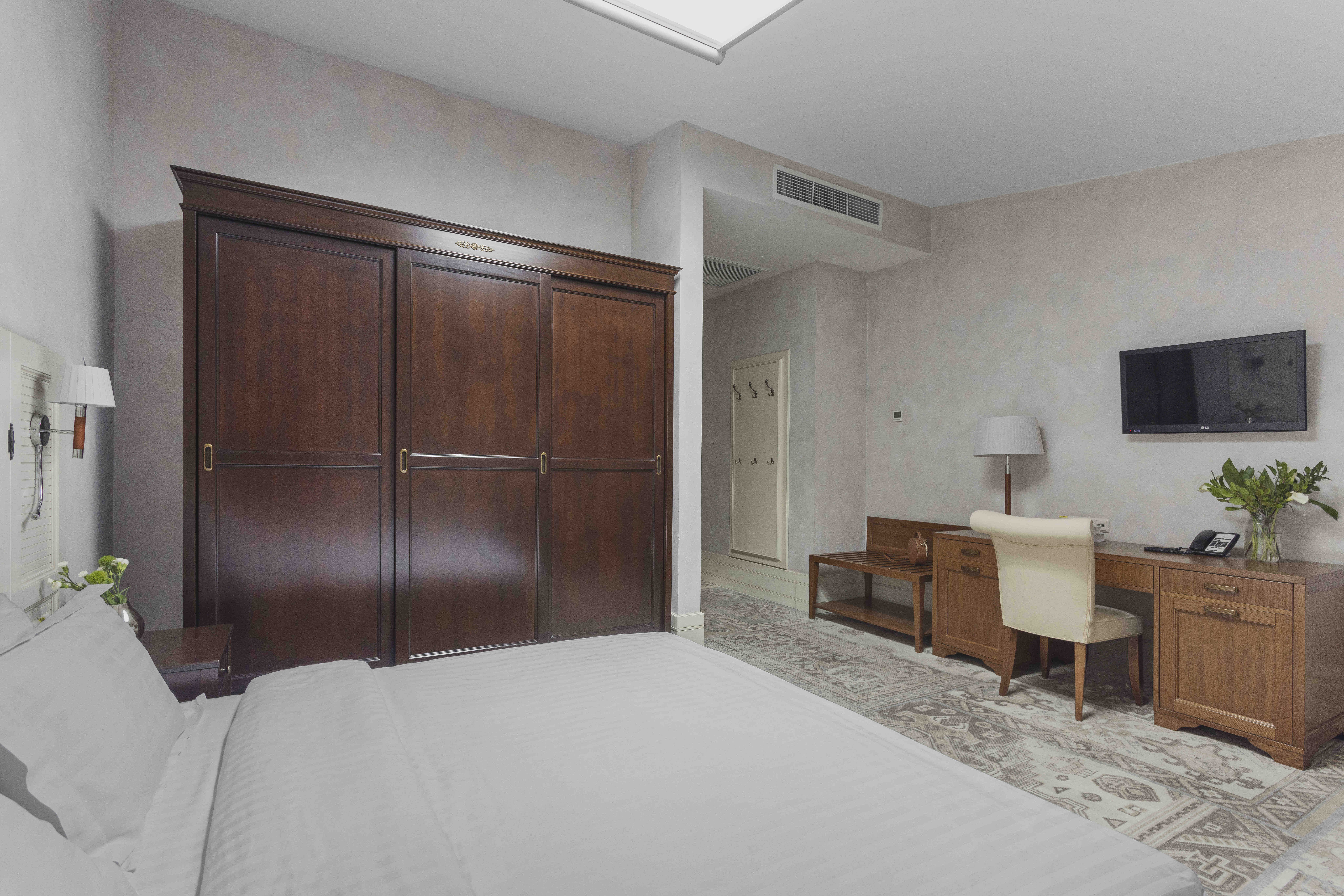 Standard
Facilities
Double bed
Work zone
Free Wi-Fi
LCD-TV
Mini bar
Phone
King-size bed
Climate control system
Electronic door locking system
Cupboard
Breakfast included in room price
22 м²
Toiletries
Hair dryer
Mini perfumes
Bathrobes
A set of towels and slippers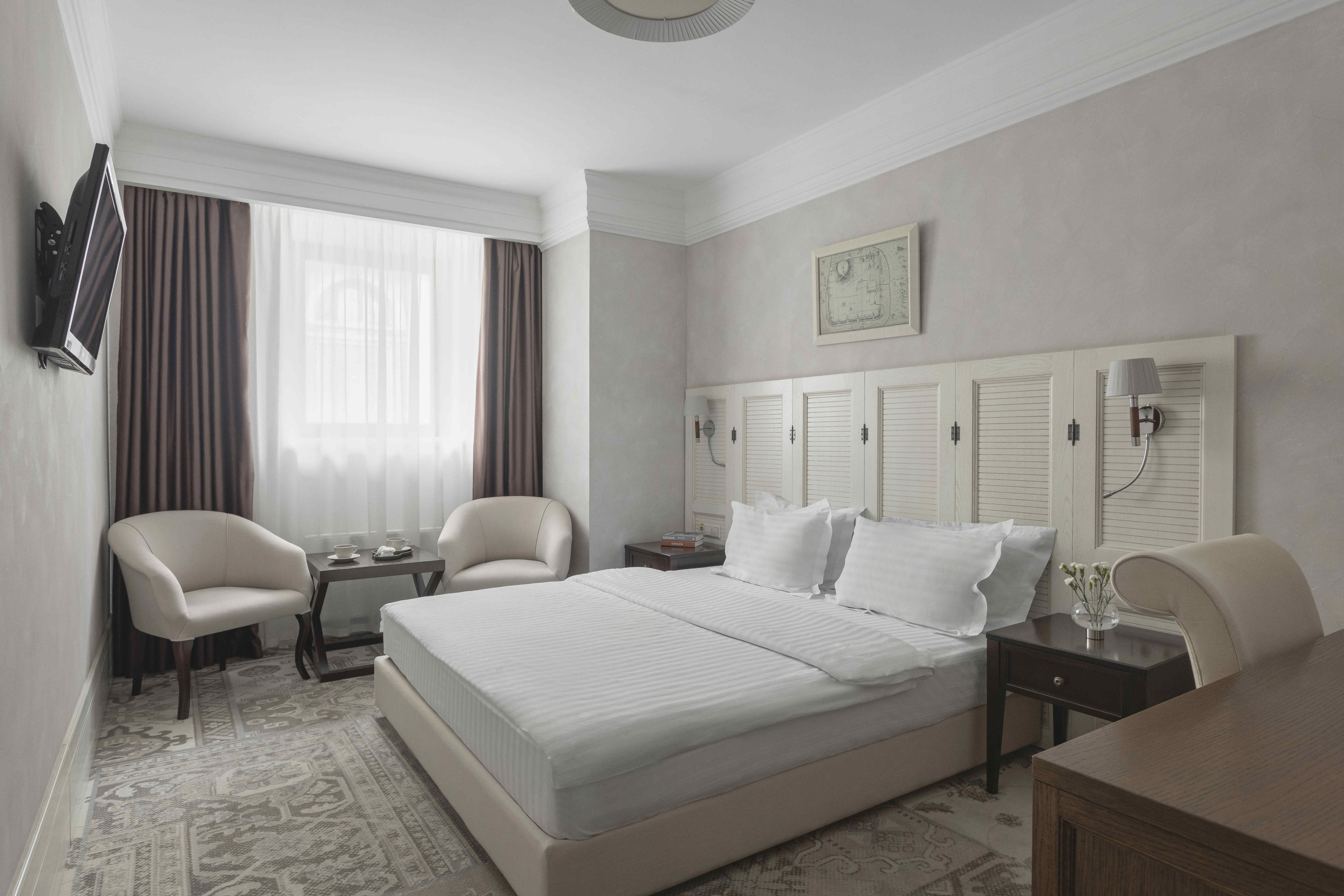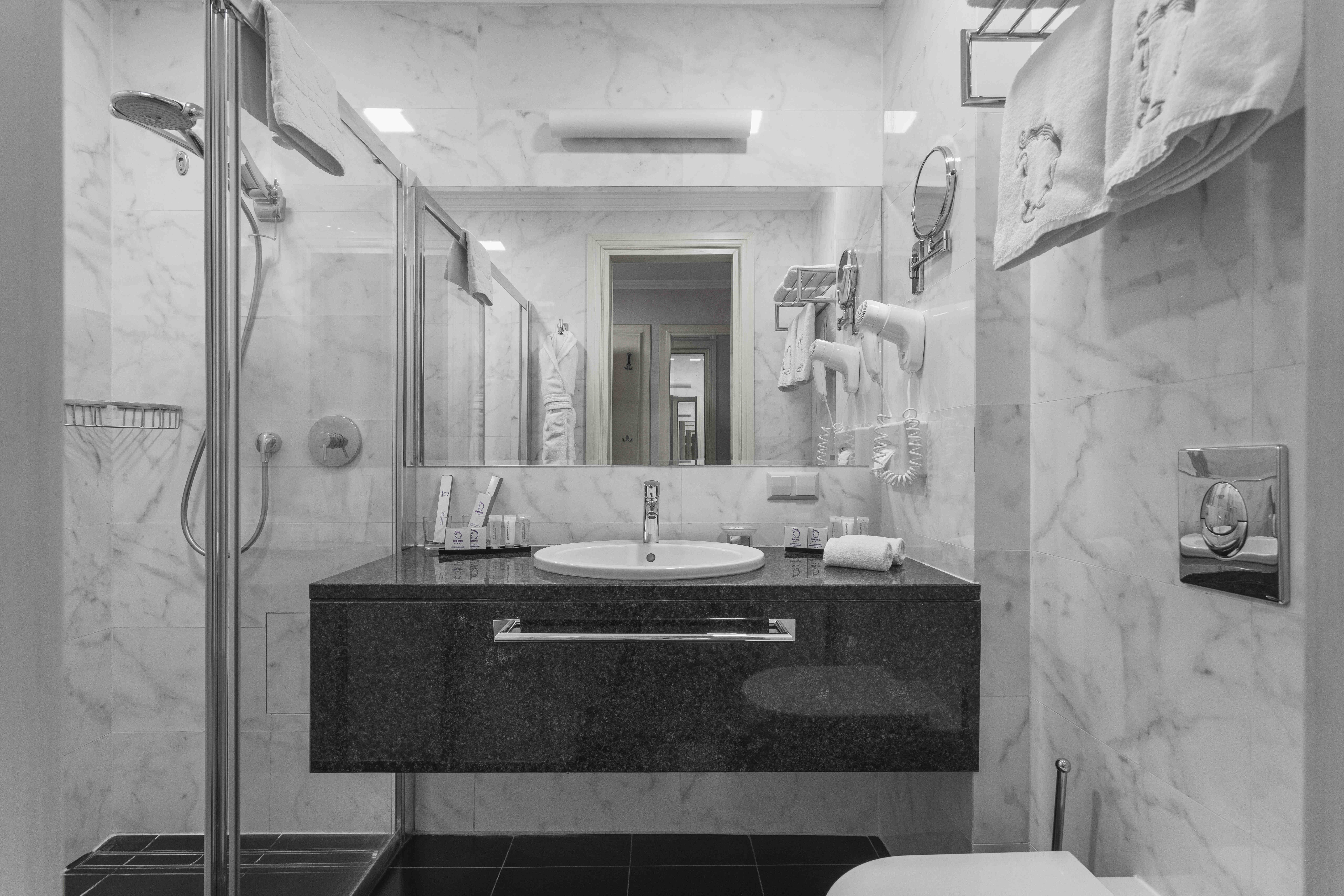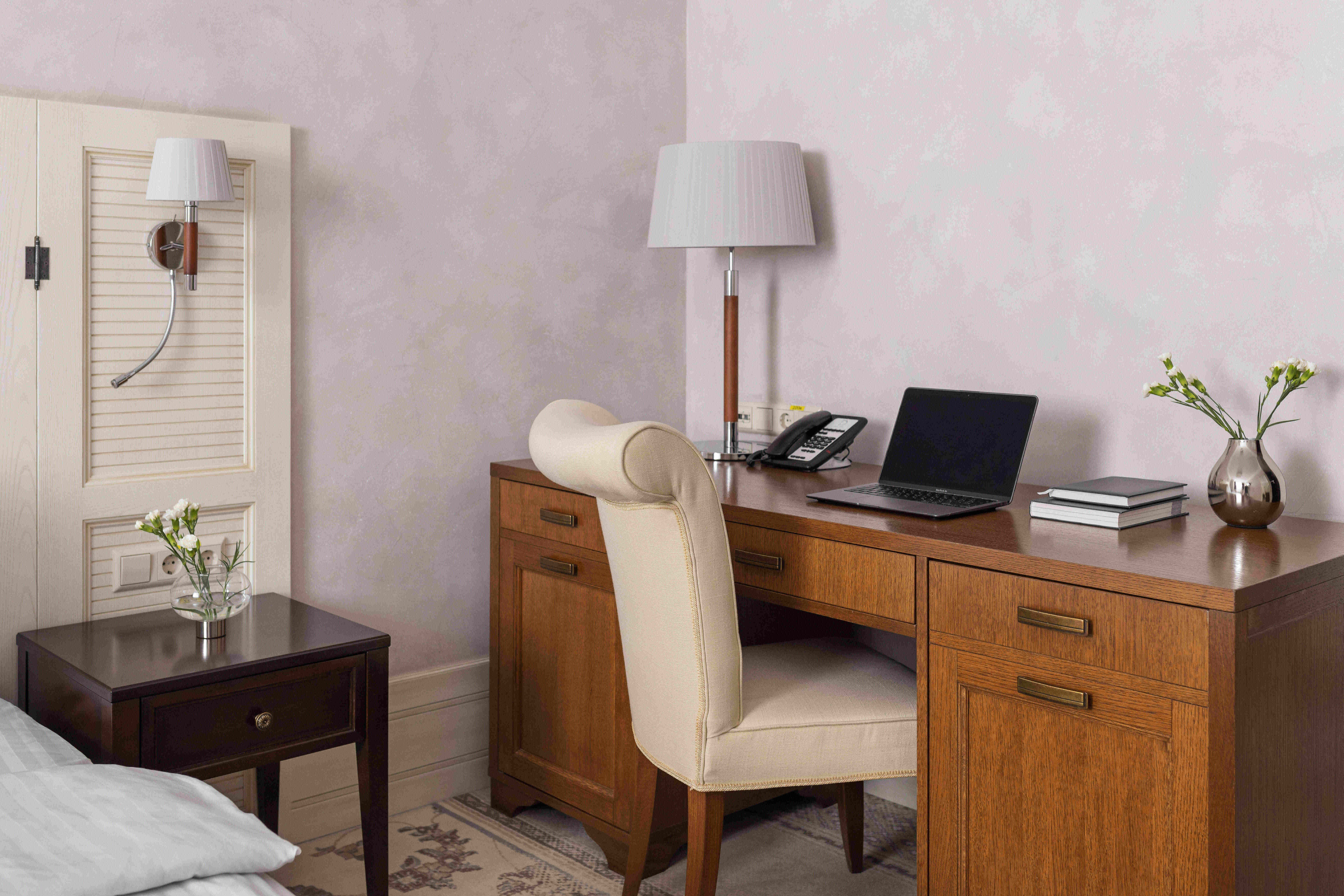 Superior
Facilities
Work zone
Free Wi-Fi
LCD-TV
Mini bar
Phone
Safe
King-size bed
Climate control system
Electronic door locking system
2 single beds
Cupboard
Breakfast included in room price
30 м²
Toiletries
Hair dryer
Mini perfumes
Bathrobes
A set of towels and slippers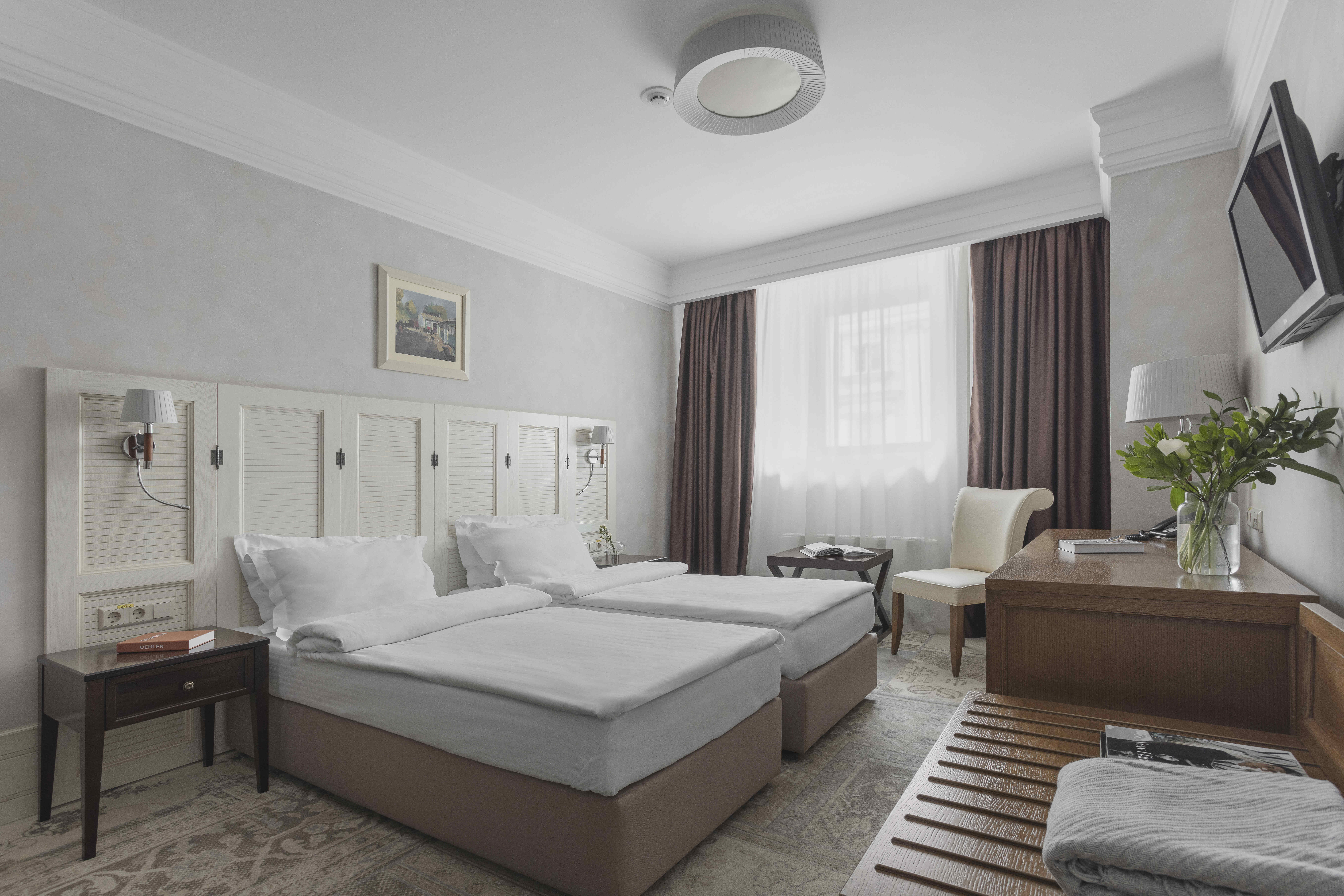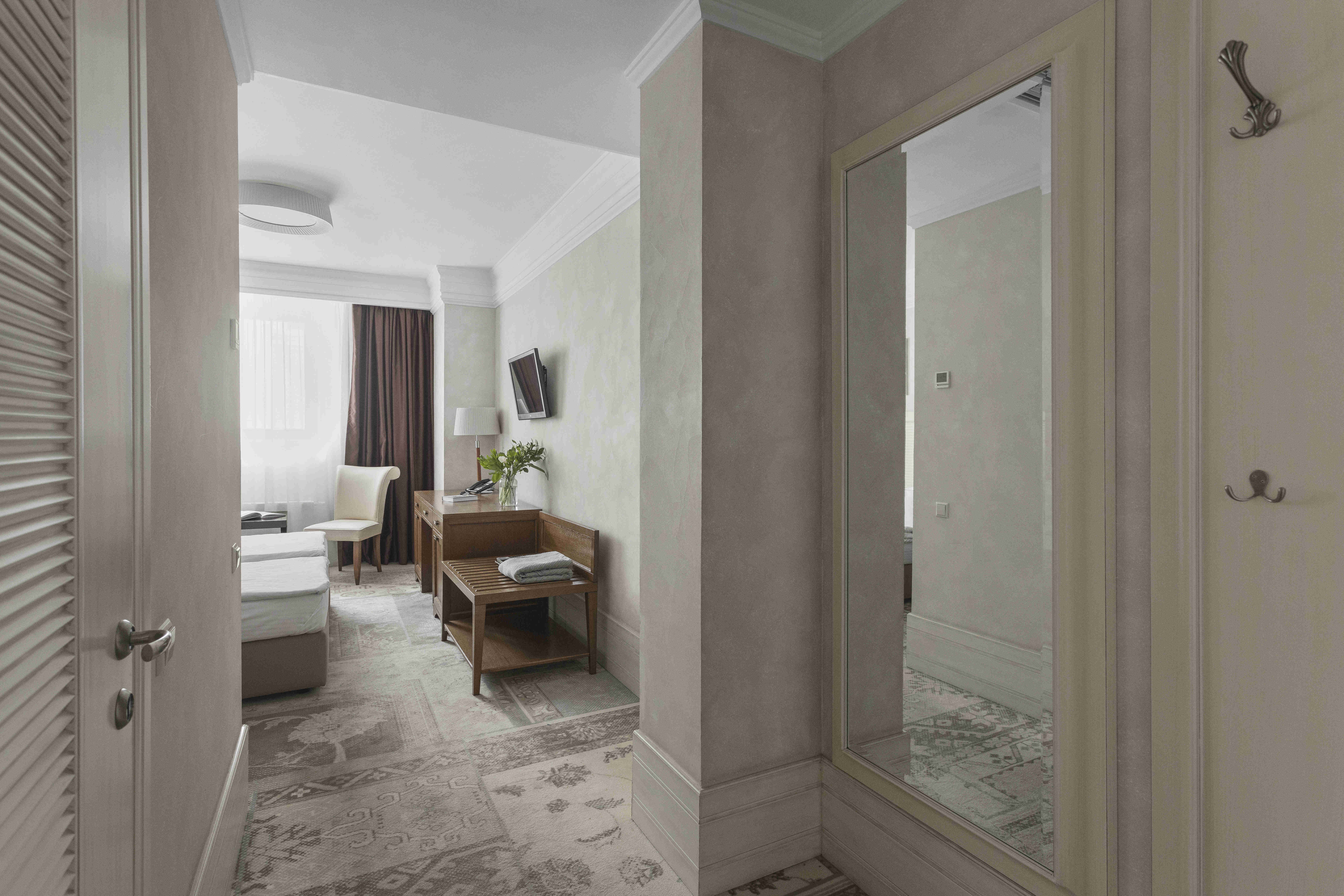 Junior Suite
Facilities
Work zone
Free Wi-Fi
LCD-TV
Mini bar
Phone
Safe
King-size bed
Climate control system
Electronic door locking system
Cupboard
Breakfast included in room price
35 м²
Toiletries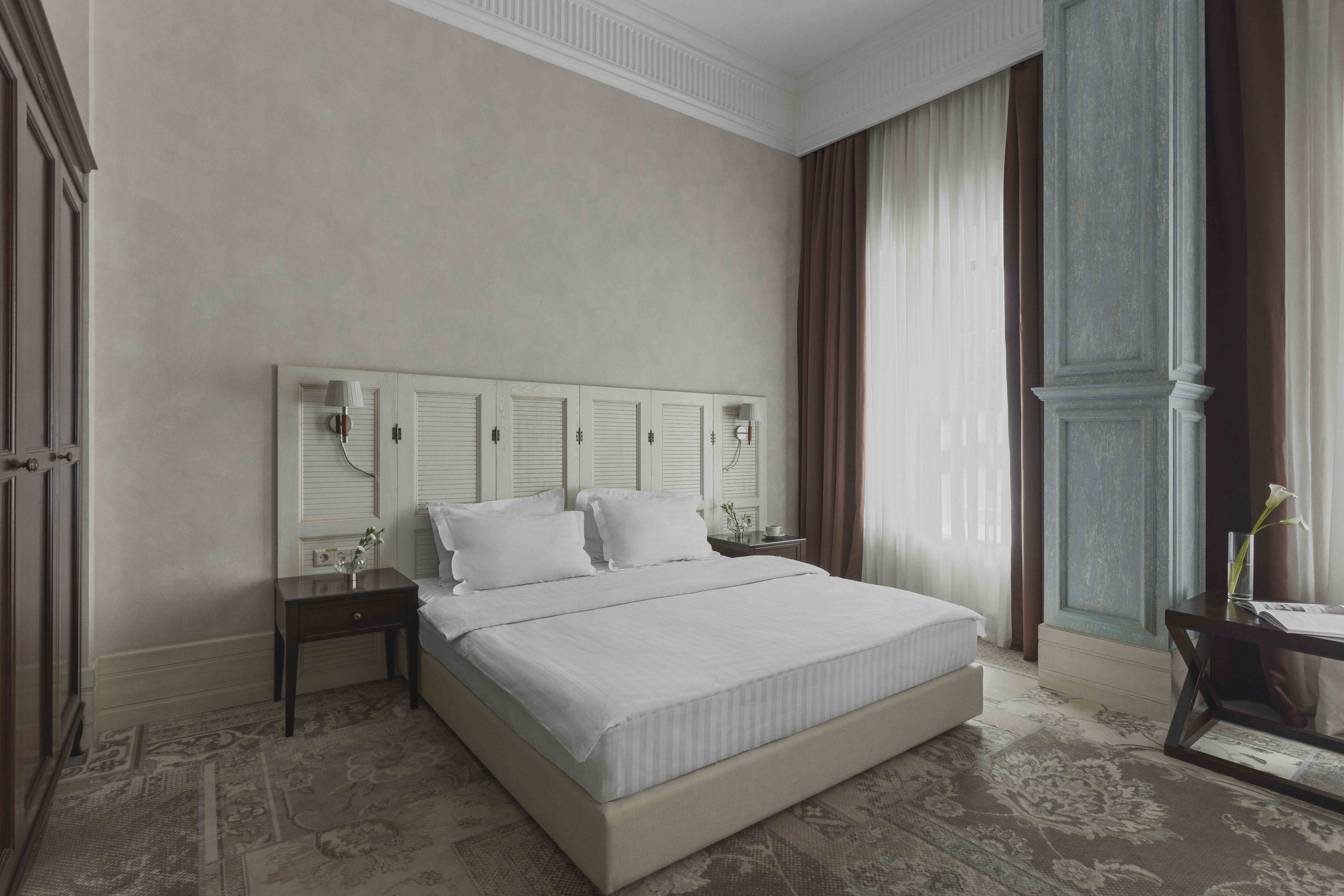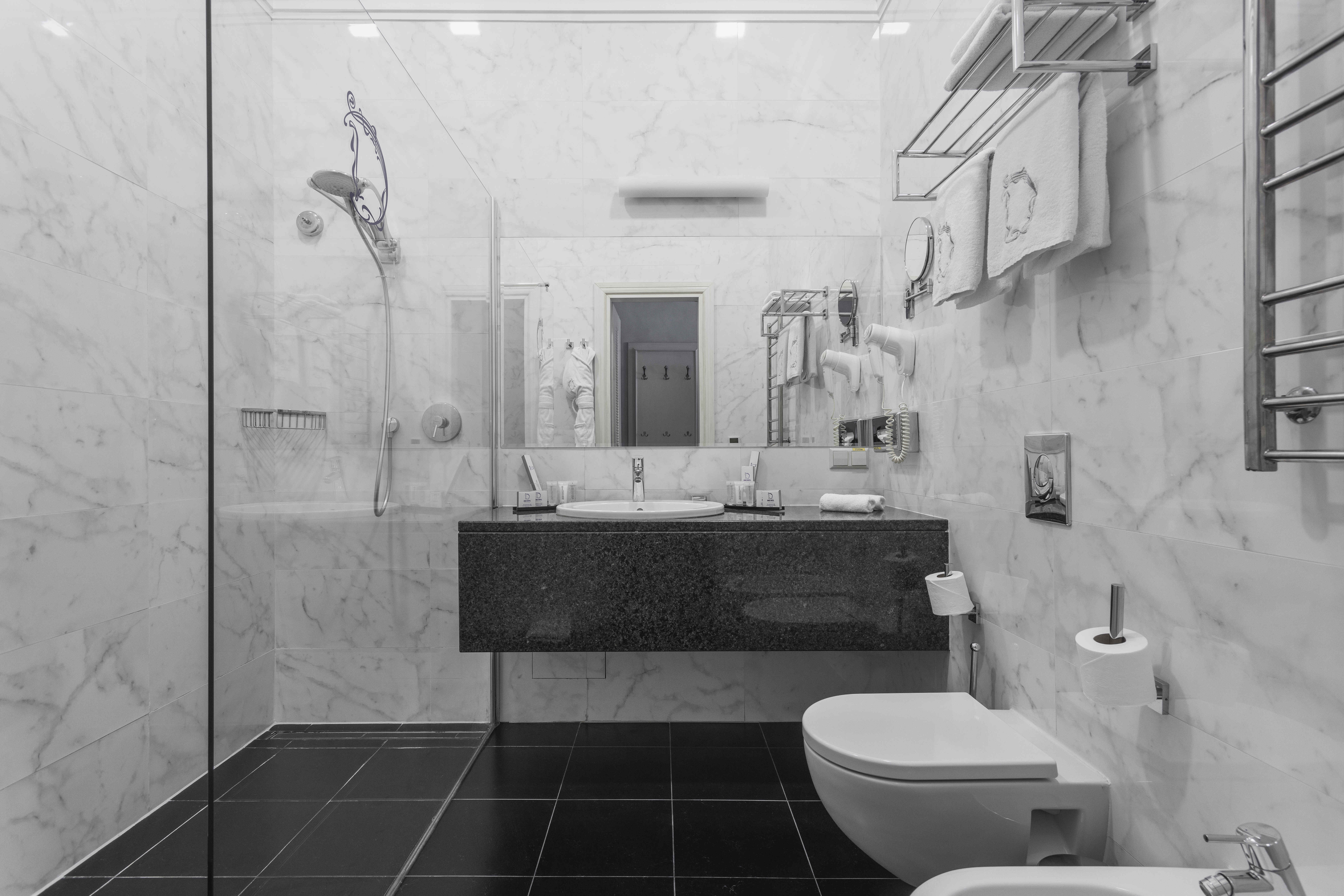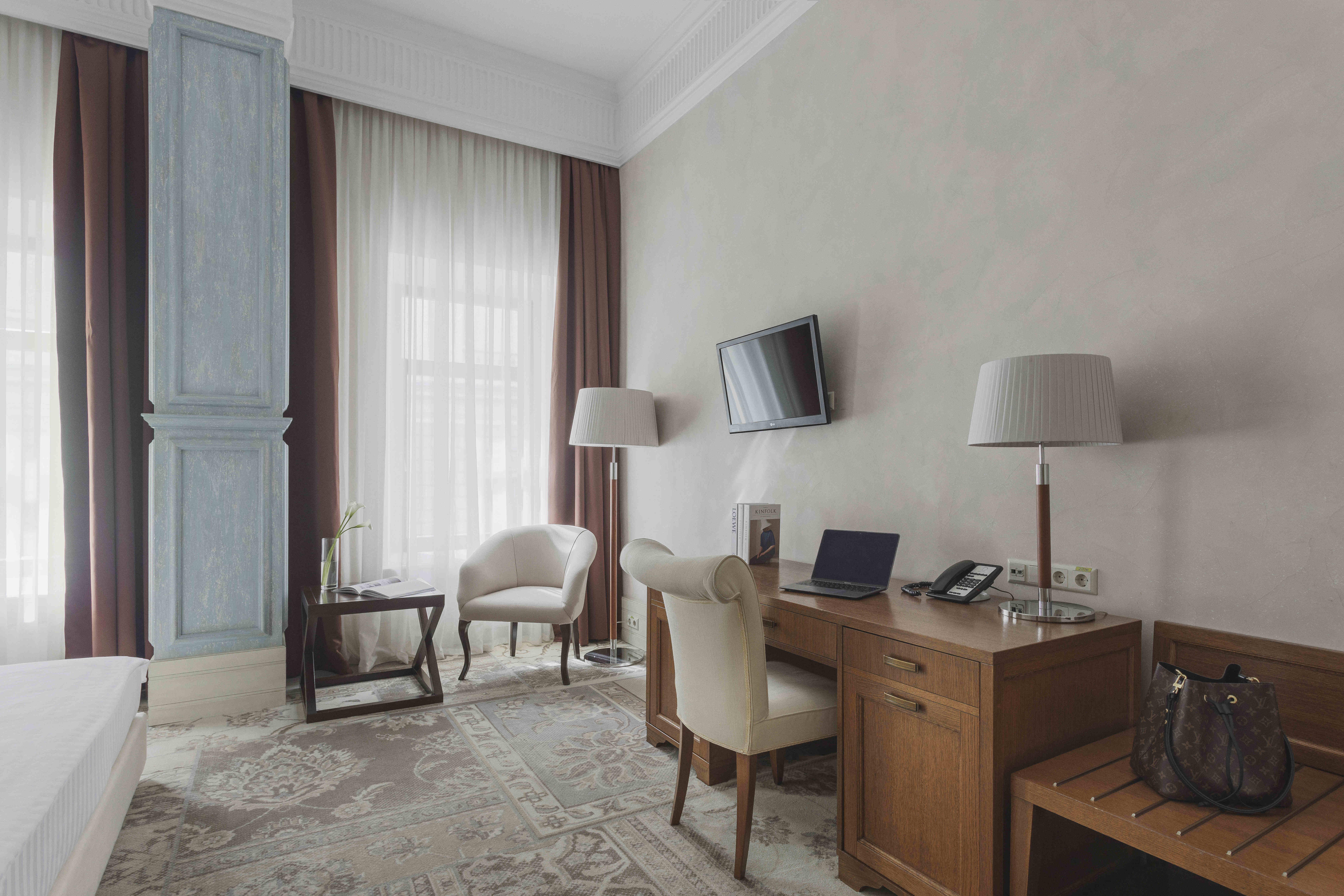 Deluxe suite
Facilities
Work zone
Free Wi-Fi
LCD-TV
Mini bar
Phone
Bathroom
Safe
King-size bed
Coffee table
Climate control system
Electronic door locking system
Two soft chairs
Sofa
Cupboard
Breakfast included in room price
2 rooms
50 м²
Toiletries
Hair dryer
Mini perfumes
Bathrobes
A set of towels and slippers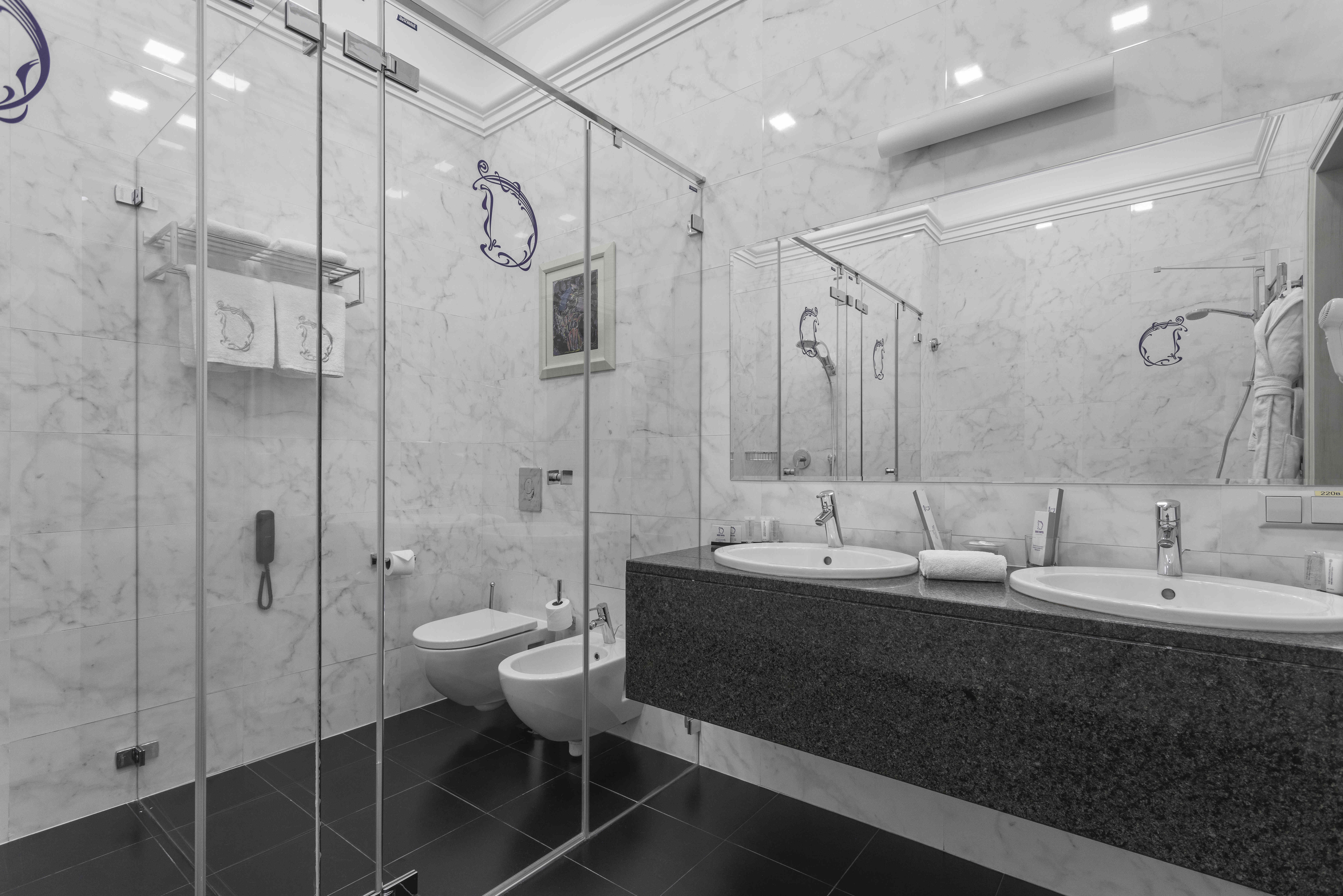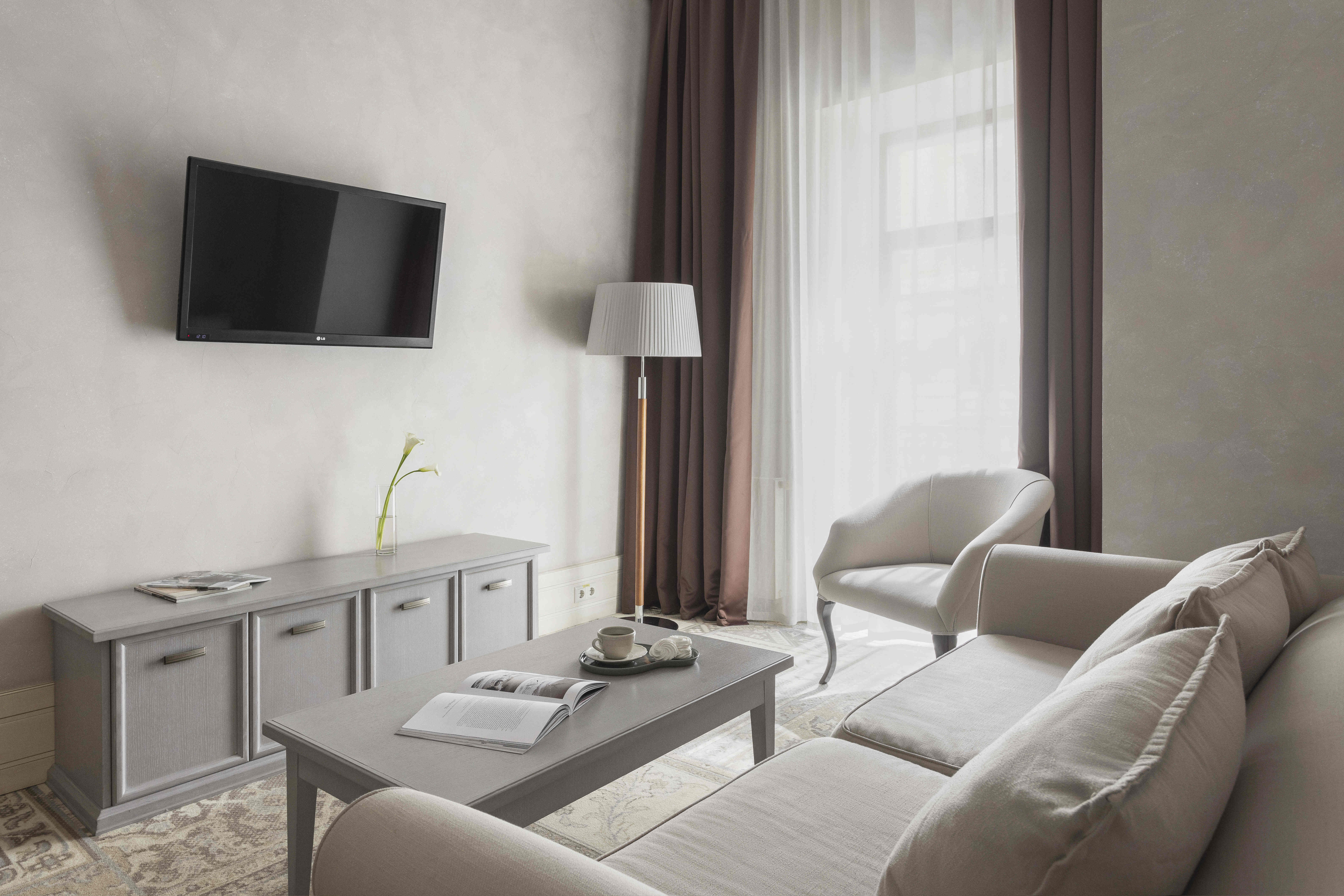 Deluxe with balcony
Facilities
Work zone
Free Wi-Fi
LCD-TV
Mini bar
Phone
Bathroom
Safe
King-size bed
Coffee table
Climate control system
Electronic door locking system
Two soft chairs
Sofa
Cupboard
Balcony
Breakfast included in room price
2 rooms
50 м²
Toiletries
Hair dryer
Mini perfumes
Bathrobes
A set of towels and slippers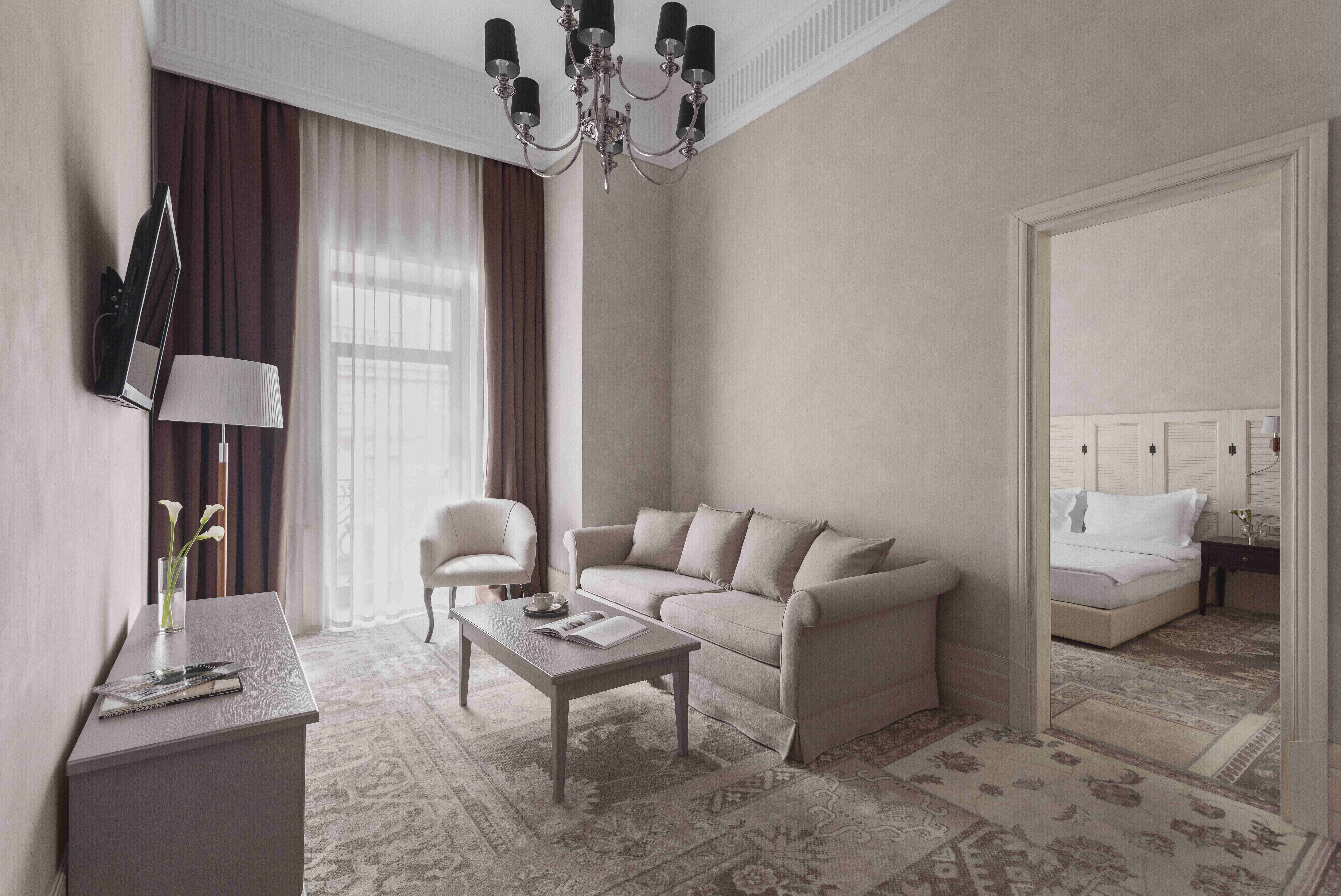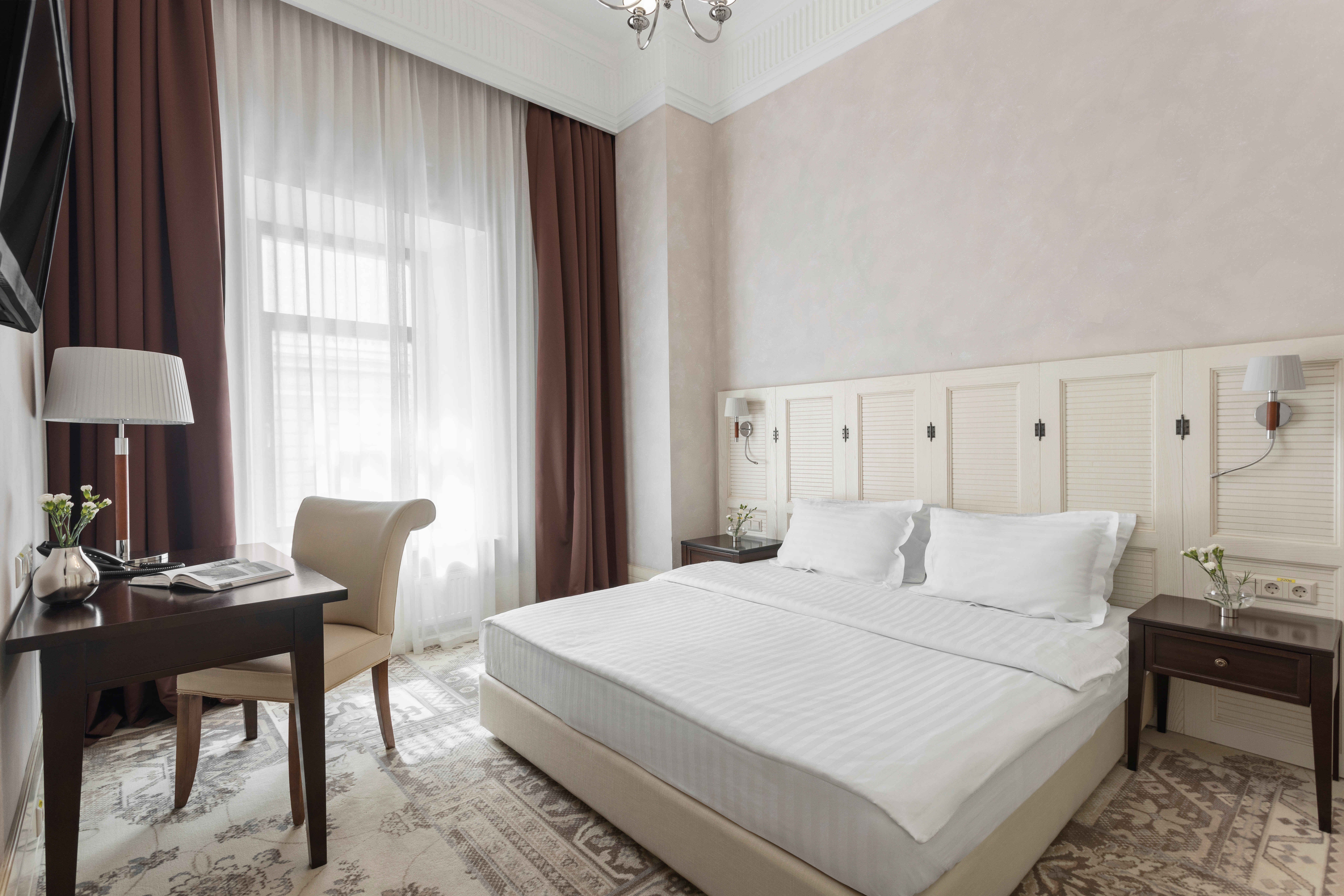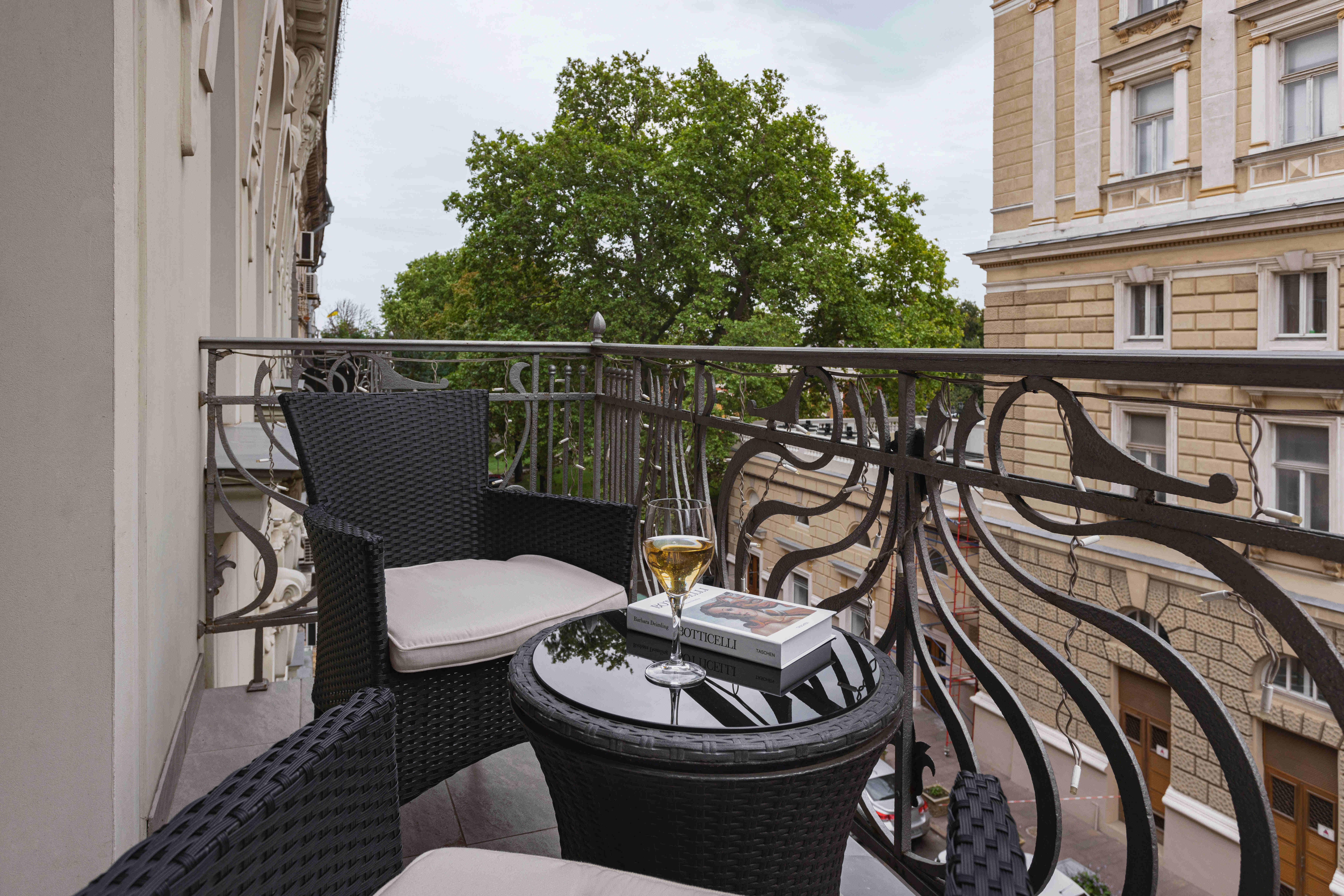 Presidential suite
Facilities
Work zone
LCD-TV
Mini bar
Phone
Bathroom
Safe
King-size bed
Coffee table
Climate control system
Electronic door locking system
Two soft chairs
Sofa
Cupboard
Balcony
Breakfast included in room price
2 rooms
62 м²
Toiletries
Hair dryer
Mini perfumes
Bathrobes
A set of towels and slippers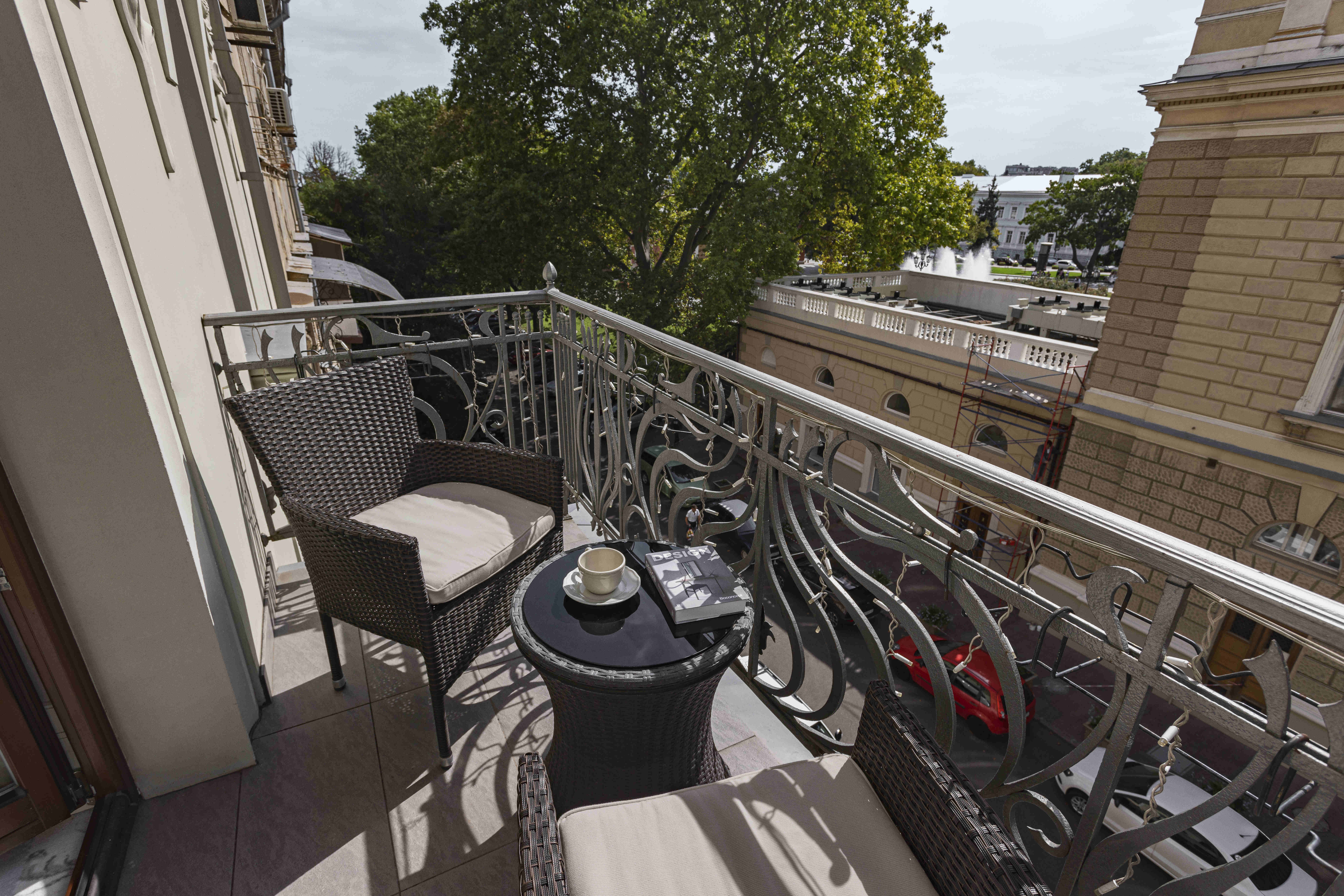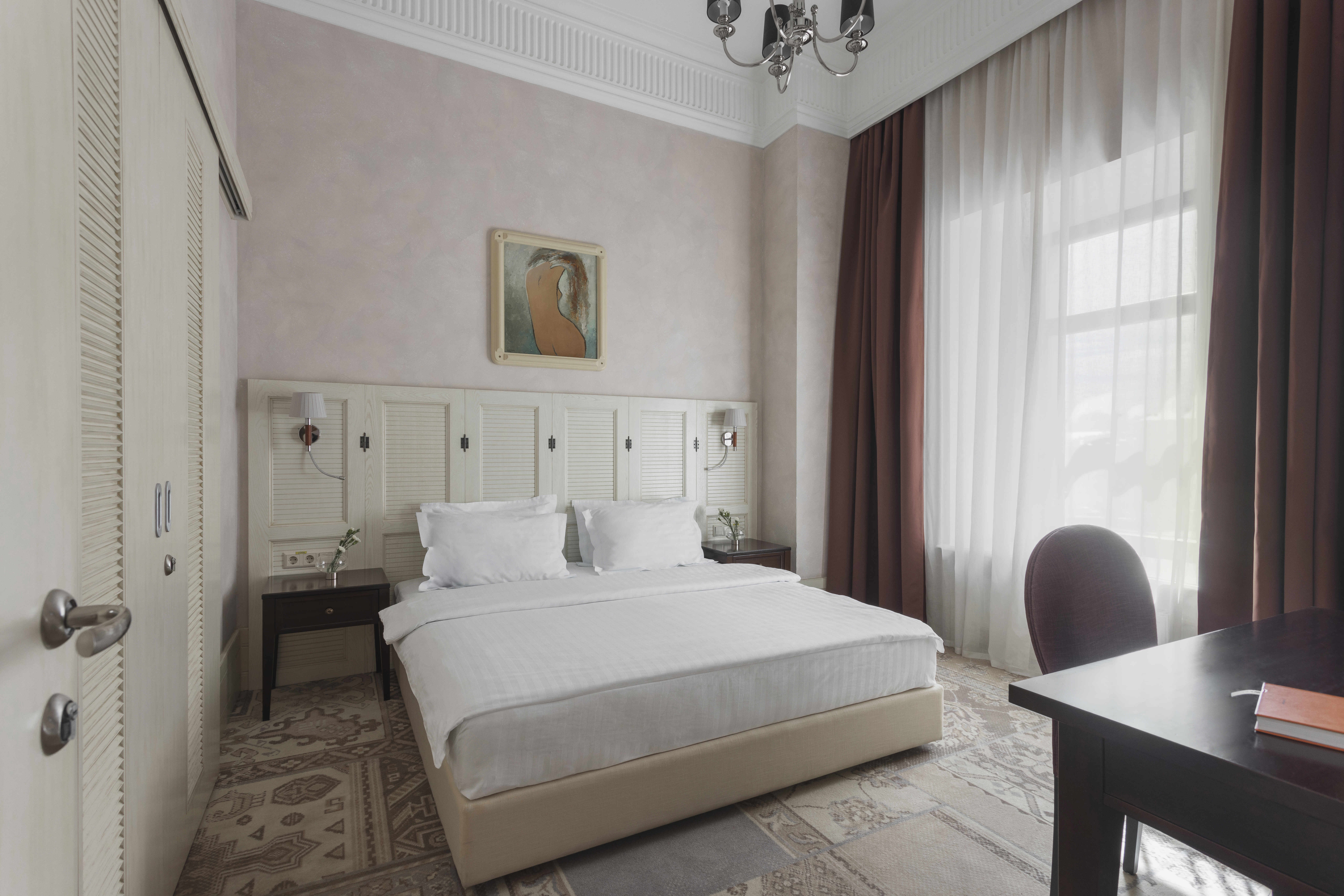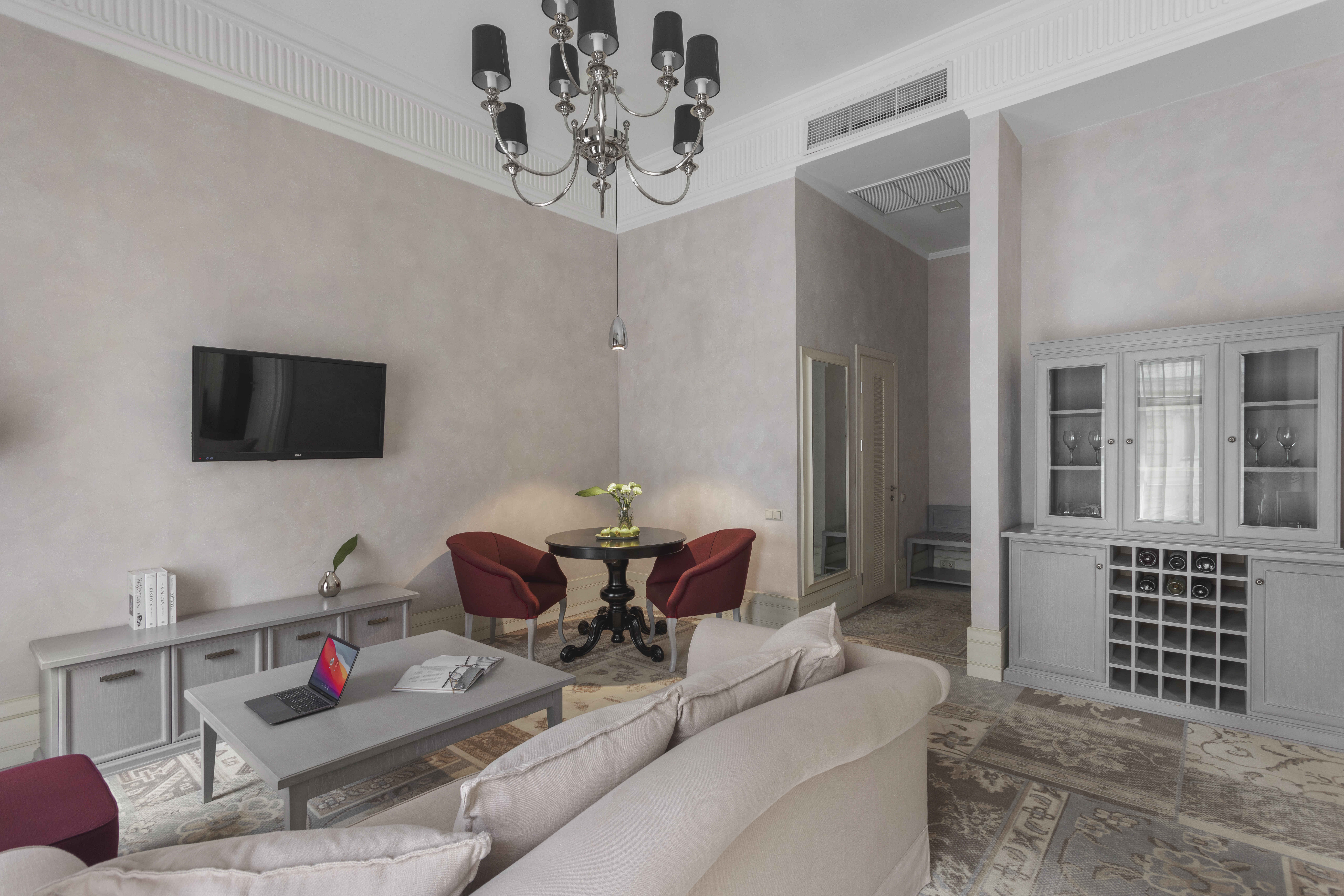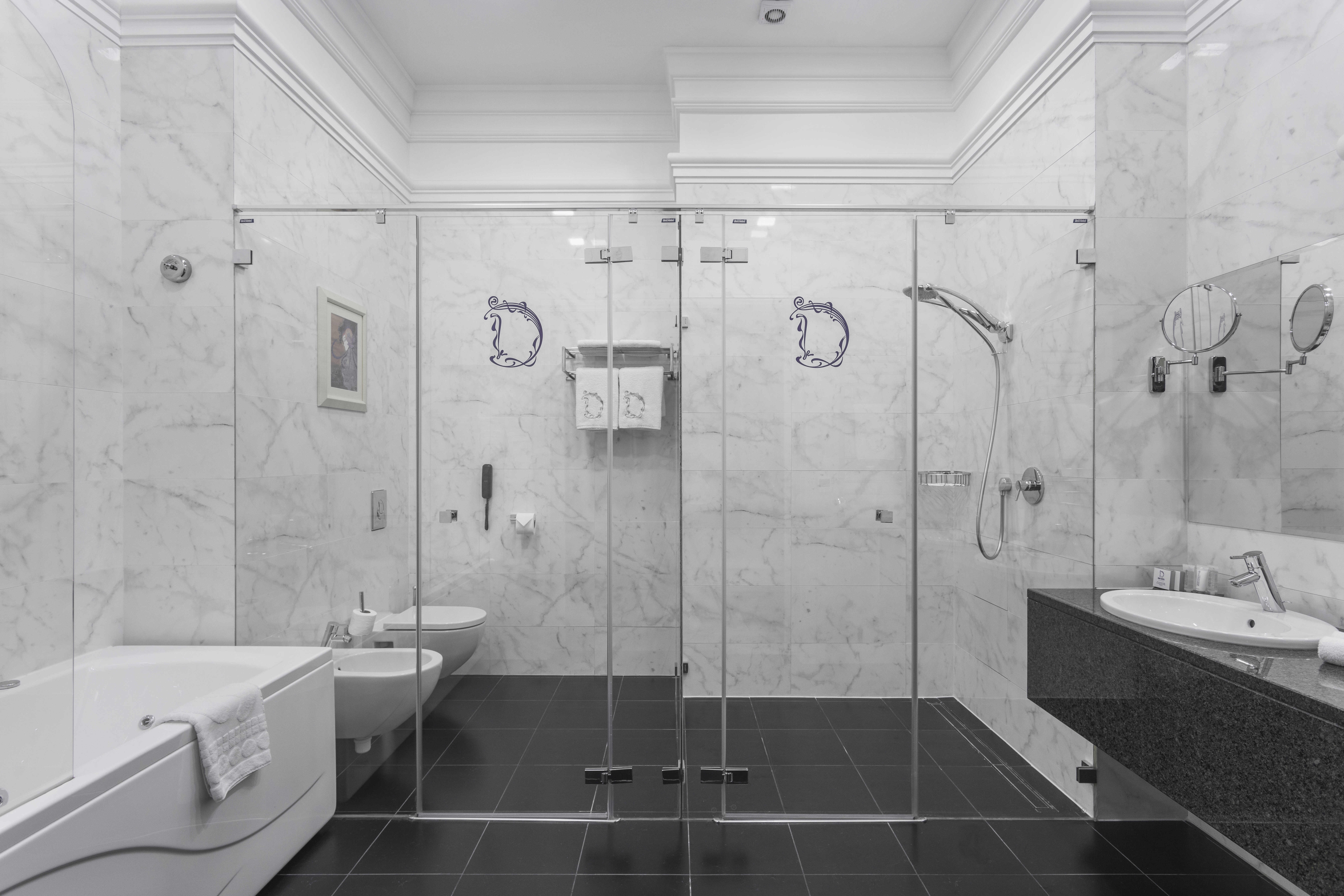 ✖


---
✖


---
or sign in with social networks